Lalime at Cleveland.
Read about Patricks Career at the Cleveland Lumberjacks.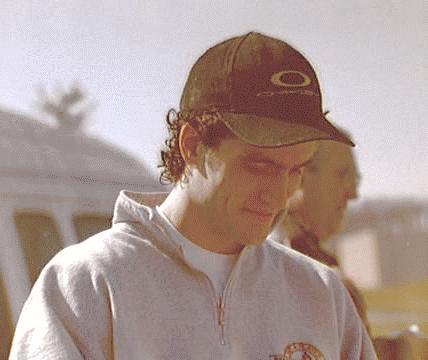 ---
Lalime came up to Cleveland from Hampton Roads of the ECHL half way thrw the year because of his good play but fell from his horse a little going 7-10-4 in 23 games with a 4.44 GAA but managed to stick with the Lumberjacks for the 95-96 season. Lalime's burst out of the gates and showed again he had alot of potential ending the season having played a big 41 games with 20 wins 12 loses and 7 ties. Lalime started the 96 97 season with the Lumberjacks again going 6-6-2 in in 14 games before injuries to The Penguins top 2 goalies Tom Barrasso then Ken Wregget wen't down with serious injuries forced management to call Lalime and fellow Lumberjack goalie Phillipe Doureville to the NHL club to back stop the team.
---
Home
Shawinigan
Hampton Roads
Pittsburgh Penguins
Grand Rapids
Kansas City
Ottawa Senators