Lalime at Hampton Roads.
Read about Patricks Career at the Hampton Roads Admirals.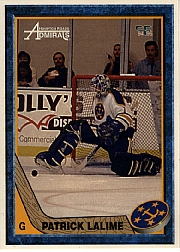 ---
Lalime spent half a season at Hampton Roads going 15-7-3 in 26 games with a 3.34 GAA with 2 shut outs before being assigned to Cleveland of the IHL because of his good record with the Admirals. Lalime was making improvements which forced Pittsburgh to move there prospect up the ranks to test his skills against tougher competition in the IHL.
---
Home
Shawinigan
Cleveland
Pittsburgh Penguins
Grand Rapids
Kansas City
Ottawa Senators