Lalime at Grand Rapids.
Read about Patricks Career at the Grand Rapid Griffins.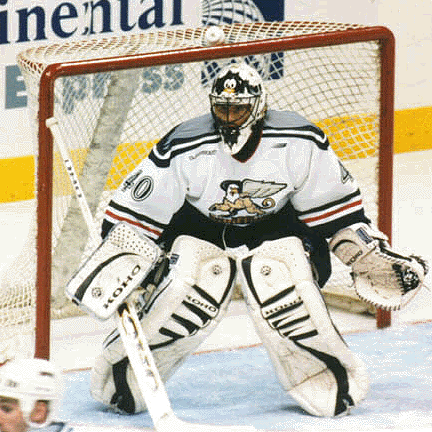 ---
Patrick signed with Grand Rapids due to contract problems with the Penguins and the fact he was a restricted Free Agent which meant he could not play for another NHL club. Lalime suprisingly was not the #1 goalie as he split the duties with IHL goalie Ian Gordon due to a poor camp. Lalime had an average year going 10-10-9 in 31 games with a 2.61 GAA with 2 shut outs. Shortly before the start of the 98-99 season the rights to Lalime were traded by Pittsburgh to Anaheim for Sean Pronger.
---
Home
Shawinigan
Hampton Roads
Cleveland
Pittsburgh Penguins
Kansas City
Ottawa Senators