Lalime at Shawinigan!
Read about Patricks Career at the Shawinigan Carteractes.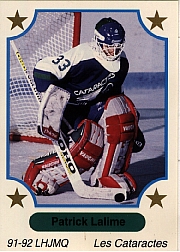 ---
Patrick spent 2 recorded seasons at Shawinigan of the QMJHL but i also believe he was there for the "91-92" season for which i haven't been able to confirm. In the 2 seasons that i have information about that Patty played at Shawinigan he played a total of 172 games recording 32 victories with 44 loses and 6 tied games, giving up 192 goals in both campaign's. Over the 2 year span he had a 4.44 GAA with 1 shut out. After beeing selected by the Penguins he then Moved on from Juniors to the East Coast Hockey League and the Hampton Roads Admirals.
---
Home
Hampton Roads
Cleveland
Pittsburgh Penguins
Grand Rapids
Kansas City
Ottawa Senators