Lalime at Pittsburgh.
Read about Patricks Career at the Pittsburgh Penguins.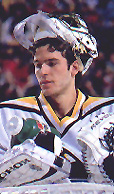 ---
Lalime was rushed up to Pittsburgh because of injuries to Tom Barrasso and Ken Wregget and the Penguins looked set to miss the playoffs because they were stuck with 2 IHL goalies playing for an NHL team half way threw the year. At this time Lalime's career took off. Patrick was unbelievable from the first save he made in the NHL. Setting a NHL record for the Longest Unbeaten streak for a goaltender to start his career with 16 straight unbeaten games, he surpassed Ken Dryden and Ross Brooks previous long standing records of 14 games. Patty wen't 14-0-2 before Colorado and Patricks idol Patrick Roy finally ended his streak. Not long after, Wregget returned from his injury and Lalime was relegated to the pine where he began to struggle ending the season with a 21-12-2 record in 39 games with a 2.95 GAA with a .915% save percentage and 3 shut outs and was named to the NHL all-rookie team. When the off season rolled around Lalime and Penguins management could not agree on a contract. Lalime demanded that he would be playing for the Penguins in the NHL and not the IHL but with Barrasso and Wregget both healthy again the Penguins refused. Lalime ended up with out a contract and eventually signed a contract with the Grand Rapids Griffins of the IHL.
---
Home
Shawinigan
Hampton Roads
Cleveland
Grand Rapids
Kansas City
Ottawa Senators